ADOPTEE RAGE!
POST-ADOPTION ADOPTEE EXPERIENCES
________________________________________________________________
https://aifs.gov.au/publications/past-adoption-experiences/7-persons-who-were-adopted
Past Adoption Experiences
National Research Study on the Service Response to Past Adoption Practices
Research Report No. 21 – August 2012
The closed records adoption system was a violation of the human right to know oneself. To be given an entirely fictional identity was a further cruelty. To have birth rights stripped away is utterly immoral and wrong. (53, 2012)
For many adopted individuals who participated in this study, the experience of closed adoption is best described as a lifelong journey of discovery. The complexities within the experiences shared with us by 823 adopted individuals (54% of all survey participants) across the country, reinforces the need to delve deeply into the information that was provided. As the embodiment of the consequences of the closed adoption system in Australia, the adoptees participating in the study overwhelmingly expressed the view that their collective voices - as varied as they are - must be listened to carefully.
Adoptees responding to our survey were not asked to identify their gender; however, it is likely that there are gender differences in areas such as the effects of their adoption, as well as the experience of contact.
7.1 Terminology and language
As for mothers who are separated from children by adoption, the issue of terminology and the language that is used in reference to individuals who were adopted was a frequent point of focus in the discussions with this respondent group. Similarly, the report from the Senate Inquiry (2012) acknowledged the sensitivities in the broader public discourse in relation to common terminologies.
Some participants expressed dissatisfaction with the use at all of the word "adoption" in this study, as they said their own placements were a result of forced adoption and/or that no formal/legal record of their adoption actually exists (i.e., their adoptions were privately arranged). Many adoptees also do not appreciated being referred to as "children". Therefore, in this report, we use terms such as "adoptee", "persons who were adopted", or "adopted individuals" to describe participants who were adopted as children during the period of closed adoption in Australia.
7.2 Respondents
Adopted individuals participating in the current study represent a very broad range of ages. Some insightful viewpoints were shared across generations, particularly in the focus group discussions.
The quantitative survey results (mainly item frequencies) for adopted individuals are provided in
Attachment C
. The following discussion of the highlights from both the quantitative and qualitative research draws upon these data, with references provided to the relevant detailed tables as appropriate.
7.3 Family of origin
About half of the survey respondents were born in the 15-year period between 1960-1974, with only 9% born after that time (see
Figure 7.1
and
Table C1
).
Figure 7.1: Distribution of adopted respondents, by year of birth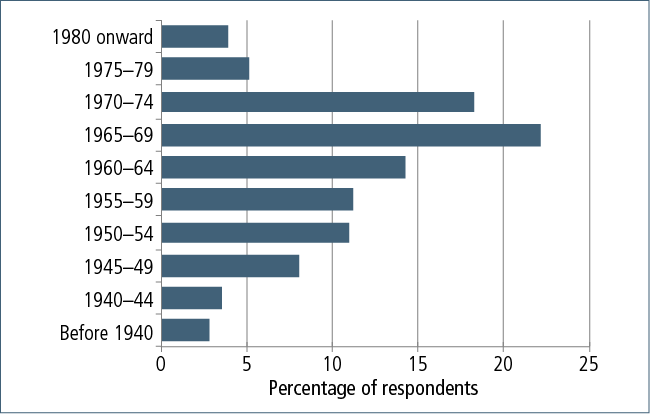 Respondents' places of birth were spread across all states and territories in Australia, with the majority having been born in either Victoria or New South Wales (30% each) (see
Table C1
). South Australia and Queensland were each the states of birth for 13% of respondents and 6% were born in Western Australia. There were very few participants who had been born in Tasmania or either of the two territories (fewer than 4%). Five per cent had been born overseas.
Over 80% of respondents had been born in a capital city, and 80% had been born in a hospital (see
Table C1
). Most of the remainder had been born in either a maternity home or church home (9% and 7% respectively).
About one in ten survey participants indicated that they had lived with their mother or other family member before being adopted by another family.
7.4 Adoptive family
Many respondents (43%) were the only children in their adoptive families who were adopted (see
Table C2
). A similar proportion (45%) grew up in a family with one other sibling who was also adopted. We did not specifically ask survey respondents whether there were other children in their adoptive family who were the biological children of the adoptive parents; however, short-response items in the survey and focus group discussions revealed this to be the case for many study participants:
When adoptees found out they had been adopted
Many of the respondents found out they had been adopted when they were quite young, with more than half knowing by the time they were 5 years old (see
Figure 7.2
and
Table C2
).
Figure 7.2: Age when adoptees found out they had been adopted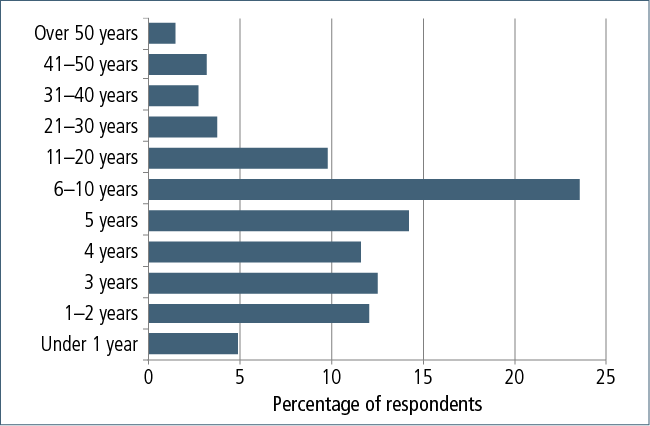 Sixty-eight per cent of respondents said that their adoptive parents told them about their adoption (see
Table C2
). Another 17% had known they were adopted from a young age, but could not recall how they found out. Others found out by accident (8%), were told by another family member (5%) or found out in some other way (8%). A very small number (less than 1%) found out when contacted by their (birth) parent(s).
Reaction to finding out
Because some respondents were told at a very young age that they were adopted, they were unable to recall their reactions to finding out (i.e., they had "always known"). Others told us they simply had no recollection of how they felt when they were told or found out they were adopted.
For those respondents who recalled their reaction (n = 683), the information they provided us ranged from very positive through to significantly more negative (particularly for those who found out later in life). Positive and negative reactions were of almost equal proportions in the responses we received in the survey. Just fewer than half the respondents said that finding out they were adopted was never an issue for them, and a very small number had a positive reaction and/or were relieved to find out they were adopted because of the very negative experiences they had growing up in their adoptive families (such as abuse). Knowing that they weren't biologically related seemed to be of some comfort to them.
Numerous respondents spoke about being given a special book that explained what adoption meant and that they were "specially chosen" by their adoptive parents. For some, being told about the day they were picked up was regarded as a favourite story in their childhood:
A number of participants told us they felt lucky that they had two mothers - that their (birth) mother loved them so much that she wanted them to have a wonderful life with their adoptive parents:
However, of those who could recall their reaction, just over half had a negative response to the information. For many, it instilled a fear that they could be given away or sent back at any time, and there were frequent descriptions using words such as "shocked", "devastated", "confused", "didn't understand", "sad" and "angry":
Eleven per cent of respondents did not find out they had been adopted until they were 21 years of age or older (see
Table C2
), and described the effect of this discovery at the time, as well as throughout the subsequent years:
Late discovery adoptees have a unique level of complexity to their stories, and some of these issues will be discussed in greater detail later in this chapter.
Family discussion
Although not specifically asked in the survey, in response to a number of the free-text response items, some participants mentioned how their adoption had been discussed within their family while growing up. For many, it was a very open topic and this normalised their experience of being adopted:
However, others who knew from a young age that they had been adopted reported that there was an expectation that it would not be discussed, or that it had to be kept a secret outside of the immediate family:
This type of experience was also regularly discussed in the focus groups:
For a smaller number of study participants, their adoptive parents still perpetuated the façade that their children had been born to them, which has had ramifications for how these participants currently view themselves and their relationship with their adoptive parents. As two focus group participants shared:
There appears to be an association between the age at which study participants found out about their adoption and how openly adoption was discussed, and their levels of wellbeing, both growing up and now. That is, the earlier they knew and the more openly and freely discussed adoption was as a topic within the adopted family, the higher the level of wellbeing of the adoptee. These links are examined later in the chapter when we discuss participants' wellbeing.
7.5 Circumstances of adoption
Survey respondents were asked whether they were aware of the reasons that led to their being placed for adoption, and if so, to describe these reasons to the best of their knowledge and understanding. Respondents were not specifically asked to identify where they obtained this information (whether from their adoptive parents, their family of origin or elsewhere); however, we assume that the responses are based on information from a mixture of sources.
Seventy-nine per cent of those who responded to this question (
n
= 813) said that they had an awareness of the circumstances that led to their adoption (see
Table C2
). For these, the most commonly reported reasons were:
family pressure for their mother to place them for adoption (31%);
stigma attached to being an unmarried mother (27%);
their mother's age (26%);
their mother had wanted a better life for them, which she felt she was unable to provide (10%);
their mother could not afford to care for them (10%);
the pregnancy was a result of an extramarital affair and there was no option for their mother to keep them (10%);
no support from their father (7%);
the pressure of social stigma was too much (7%); and/or
their mother "did not want them" (7%).
Other reasons included general lack of support (6%); pressures applied by others in positions of authority, such as hospital staff or members of a church (6%); their mother felt they had no choice (5%); or the home environment was unsuitable, unstable or unsafe due to family violence, drug or alcohol abuse or mental health issues (4%). Another 4% said that they were placed for adoption as the pregnancy was a result of rape and/or incest, and 3% understood that their mothers had been victims of forced adoptions. Just 1% described their mother's decision to place them for adoption as being her own informed choice.
Qualitative accounts in the focus group discussions provided some further insight into the understandings that participants had about the reason for them being adopted:
Focus group discussions also provided us with information on the reasons for their adoptive parents adopting them. The most commonly talked about reasons were infertility, wanting a child to balance the gender of their existing biological child(ren), or to save their marriage. Some participants told us that their adoptions had occurred very rapidly:
7.6 Childhood experiences
Relationship with adoptive parents
In the initial version of the survey, which went live in August 2011, the question about adoptee's views of their relationship to their adoptive parents was asked about both parents in a single question (
n
= 140) (see
Table C11
). After revisions to the survey instrument, which was released in December 2011, respondents (
n
= 683) were asked their views about each adoptive parent separately.
Overall, respondents to the question about both adoptive parents described the relationship with them as being either good or very good when growing up (54%). For those who responded about their adoptive parents individually, 26% had a poor or very poor relationship with their mother, and 18% had a poor or very poor relationship with their father when growing up.
Focus group discussions showed a broad range of perspectives regarding the quality of relationships with their adoptive parents and other family members while growing up, from extremely positive and loving, to the adoptees being subjected to physical, emotional and/or sexual abuse. These experiences will now be discussed.
Positive experiences
For many study participants, on average, their adoption provided them with affirming experiences throughout their childhood as well as now (see
Table C11
). For some, their reasons for participating in this study were to communicate how positively they viewed their experiences growing up, and the normality of simply being in a family that is supportive and loving, regardless of how it originated:
However, it should also be noted that there is a distinction between having had a positive experience of childhood and whether or not study participants experienced any negative effects as a consequence of being adopted. The two are not mutually exclusive. This subject is discussed in more detail in section 7.7.
Negative experiences
Just over half of the adoptees reported a wide range of negative experiences, including being treated differently and feeling different to the adoptive parent's biological children, never feeling wanted, and living with secrecy and lies and even abuse:
This treatment extended to attitudes from the extended family members of some participants:
There was a difference, however, between feeling lucky or special and being told they were lucky or special, which for many study participants subsequently led to feelings of needing to be grateful for something:
Participants spoke about the stigma associated with being adopted. Comments were made such as "coming from tainted/bad blood", or being "painted with the same brush as your mother":
Of particular concern is that quite a number of participants reported suffering abuse in the adoptive family environment.
Note: The following accounts contain information that may cause distress to the reader. We advise that those who have been affected by past adoptions or are sensitive to trauma issues may wish to avoid reading them, or ensure that appropriate support is available.
Some respondents who had not been placed with a family but remained in the care of the state reported that they had been subjected to medical experimentation, while others believed that they had been included in activities related to eugenics:
Many of those who had experienced abuse and neglect within their adoptive families felt that the issue of how their parents had been screened prior to adopting, as well as the lack of follow-up or monitoring by those who had organised their adoption, was of particular concern:
Although a significant proportion of adoptees responding to our survey described positive personal experiences from the closed adoption period, this does not in any way minimise the significant number of adoptees who reported that their experience had been negative, and whose descriptions provide evidence of a range of ways in which closed adoption and the way it was practised in Australia until the late 1970s and early 1980s caused harm, distress and other ongoing effects. These effects are discussed in further detail below.
7.7 Effects of childhood experiences of adoption
The information presented thus far from study participants shows a relatively equal mix of positive and negative experiences. There are complexities across and within these experiences. Similar to mothers who participated in the study, people who were adopted were keen to reflect on their past experiences in detail in order for us to gain an understanding of how these experiences have played out over the course of their lives.
The following section presents information on the effects of their childhood experiences of adoption. Firstly, we examine some common themes that emerged in both the survey results and focus group discussions, which related to issues of secrecy and lies, identity, abandonment, worthiness and attachment. These issues were described not only by those with negative experiences of growing up as an adopted child; challenges with identity and belonging were frequently presented by study participants, regardless of whether they had a "textbook perfect" upbringing, a relatively "normal" upbringing, or whether they had been subject to varying levels of abuse and neglect within their adoptive families.
Secrecy and lies
One of the most common themes to emerge from adoptees in relation to the effects of their adoption was the issue of the secrecy and lies that have been told over the years, with much of this still happening. Even though many knew from an early age that they had been adopted, they were often not allowed to talk about it or, if they did, their adoptive parents were elusive with the details. Some were even told that their mother was dead, which was later found out to be untrue:
Respondents said that they need to know the truth, and that they have been hurt by the dishonesty. They have felt cheated and invalidated; for example, some found out years later that others knew of their adoption when they didn't - a number mentioned that "everyone" appeared to know except them. This veil of secrecy has led to a loss of trust, a need for acceptance and fear of rejection:
Some respondents who attended the focus groups said that participation in the current study was the first time they had discussed their adoption with anyone, and many appreciated the opportunity to speak with others who had had the experience of being adopted:
Identity
Two of the key themes also to emerge were issues relating to identity and belonging; that everyone has the right to know who they are and where they come from. Not having information about themselves was an issue for many, as was feeling like no one else understood what it was like to be adopted (particularly if they had not had the opportunity to discuss this with anyone else). The added complexity of knowing how to tell their own children who they are was also raised as an issue relating to identity for many in this respondent group:
There were various reports of feeling different (e.g., "not feeling like I fit", "I was different to everyone and couldn't make sense of myself within that [family] unit"), and wanting or needing to feel a sense of "belonging somewhere in the world - making sense of where I fit":
Some felt they were cut off from identification with any group in society:
Others had less of an issue with their sense of personal identity:
The effects also varied according to when respondents found out that they were adopted:
For late discovery adoptees in particular, the issue of identity was significant, as many felt that everything they had known about themselves to that point in time was untrue:
Abandonment
A number of participants reported feelings of abandonment ("I wasn't wanted") and the confusion of rationalising in their head that their mother didn't have a choice, but in their heart not being able to believe it ("She could have tried harder to keep me"). Some felt that if they had more information on the circumstances of their adoption, then it might lessen the feelings of abandonment:
Adoptees also talked about the "ever-present fear" of being sent back or given away ("If I don't behave, I'll be abandoned again"):
Some participants spoke about how not knowing what happened to them between the time they were born and when they were placed with their adoptive parents plays on their minds:
Gratitude
A commonly reported experience reported by adoptees in this study, was the feeling that they had to show gratitude/appreciation to their adoptive parents for "taking them". This often resulted in over-achievement and over-compliance:
Although being told you were special/chosen was in many ways a wonderful experience for participants ("We chose you because you were the one that smiled"), this often led to pressure associated with needing to uphold a certain level of behaviour ("I always felt I had to be happy"):
As previously mentioned, others, when talking to the adopted individual about their circumstance, often used the term "lucky". Many respondents felt this was a misnomer:
Many respondents questioned whether the adoption was done in the best interests of the child:
Worthiness
The flow-on effects of feeling like the "forever grateful adoptee" or being "unwanted" manifested themselves through many participants having difficulties throughout their lives with feeling worthy of anything good. This has affected many areas of their lives, including their relationships and career:
Attachment
Attachment issues were common for study participants as a result of their adoption experience. Issues with attachment had an effect on some adopted individuals' childhood relationships - never getting close and trying to avoid being too clingy - as well as later on in life, such as their capacity to bond with their own children:
7.8 Support when growing up
Parents had been the most common source of support, with a third of respondents turning to their adoptive parents for support. About one in ten respondents had received support from friends, and a similar number from other family members.
There can be many ways in which lack of appropriate and accessible support throughout the lifelong journey affects adoptees, as discussed below.
7.9 Effects over time
Many of the effects experienced by survey respondents during their childhood have carried over into adulthood. Even though a large proportion of respondents had very positive experiences of growing up, they often still faced challenges with their identity, a sense of belonging/"fitting in" and attachment issues.
Relationships
Many respondents referred to the effects of being adopted on their capacity to establish and maintain meaningful relationships with partners, parents and their own children. The effects of feelings of abandonment, rejection and worthlessness compounded into more complex issues when trying to navigate their relationships:
Some participants talked about the complexities of adoption and how it affects their partners:
One participant who is both an adoptee and a mother forced to relinquish her own son as a teenager, described her adoptive mother's reaction to her own reunion with her son:
Having children
Although a large proportion of respondents said that their decision to have children was not influenced at that time by their adoption experience, many did report the subsequent effects that they experienced once they had children.
During discussions, some respondents noted that they were worried about their capacity to bond with their own children, or of being overprotective. They noted that there are ripple effects on their own children - "it does not stop with us". Others felt that their own experience had led them to be very open with their own children:
Normalisation
Dealing with societal attitudes of curiosity, pity and awkwardness is something else many respondents mentioned experiencing, both while growing up as well as throughout adulthood. This has been described by some as an incredibly frustrating "burden" they have had to carry throughout their lifetime:
Life events
As one of the ways to gain an overall sense of the effects that adoption has had throughout their lives, respondents were asked whether they believed their adoption experience had played any part in contributing to a series of common life events.
Wellbeing
A number of measures of wellbeing were included in the survey, as described in section 3.3:
the shorter version of the World Health Organization Quality of Life instrument (WHOQOL-BREF);
the Kessler Psychological Distress Scale (K10); and
a life satisfaction scale, based on the one used in the HILDA survey.
WHOQOL-BREF
Table 7.1: Quality of life scores of study adoptees compared to Australian norms, by domain, WHOQOL-BREF
Domains
Australian norms
Survey respondents
Scale score
SD
Scale score
SD
Physical
80
17
56
13
Psychological
73
14
51
9
Social relationships
72
19
59
24
Environment
75
14
72
19
Overall rating of quality of life
4.3
0.8
4.1
1.0
Overall satisfaction with life
3.6
0.9
3.5
1.2
Partnered individuals (married and de facto/same-sex) had slightly higher scores on average than other respondents.
Full-time workers scored a little higher than part-time workers, who in turn scored higher than those not working.
Higher levels of education were associated with higher scores.
Generally, the older the age at which the person found out he/she was adopted, the lower the scores.
Those who believed that being adopted had not affected their wellbeing while growing up had scores that, compared with other characteristics that were examined, were considerably higher than those who felt their wellbeing had been affected.
Those who had had some support for their adoption experience while growing up had higher scores than those who had no support, whereas those who had had support since becoming an adult, scored slightly lower on average than those who had not had support.
The Kessler Psychological Distress Scale (K10)
Table 7.2: Mental health of study adoptees compared to National Health Survey respondents, by likelihood of having a mental disorder, K10

| | NHS male (%) | NHS female (%) | Adopted persons (%) |
| --- | --- | --- | --- |
| Likely to be well | 85.6 | 79.6 | 54.1 |
| Likely to have a mild disorder | 8.3 | 10.6 | 17.4 |
| Likely to have a moderate mental disorder | 3.1 | 5.5 | 10.3 |
| Likely to have a severe mental disorder | 2.7 | 4.4 | 17.9 |
Levels of psychological distress appear to vary according to the age of the respondent.
Distress levels were highest for those who had never married or were separated/divorced.
Distress levels were highest for those not working and for those with lower levels of education.
Distress levels were slightly higher for those who had had contact with birth family members.
Those who believed that being adopted had not affected their wellbeing while growing up had distress levels that, compared with other characteristics that were examined, were considerably lower than for those who felt their wellbeing had been affected - so low, in fact, that they were very close to the NHS norms.
Those who had had some support for their adoption experience while growing up had lower levels of distress than those who had had no support, whereas those who had had support since becoming an adult, had higher levels of distress on average than those who had not had support.
Life satisfaction
The relationship between life satisfaction and the various respondent characteristics mentioned above showed similar patterns to those of the WHOQOL and K10.
Comparison with HILDA respondents is broadly possible, although the HILDA measure of life satisfaction has the scale ranging from 0 to 10.
Table 7.3: Life satisfaction scores of study adoptees compared with HILDA respondents

Score (weighted HILDA data)

AIFS study
Adopted (%)
Not adopted (%)
Adopted (%)
0-4 (low)
3
2
16
5-7 (moderate)
36
31
34
8-10 (high life satisfaction)
61
67
50
Total percentage
100
100
100
No. of observations
148
12,537
825
7.10 Seeking information
A significant component of the study centred on people's experience of seeking information about themselves and family members from whom they were separated, as well as the process of search, contact and the subsequent establishment of new relationships (if this eventuated as a result of contact).
For many of the adopted individuals who participated in this study, this process related to formation of their identity, and search and contact experiences were identified as being some of the most significant in their adoption stories.
When asked how their adoptive parents reacted when told about their intention to search for information about their birth family, 20% of respondents said they did not tell them. Those who told their parents described the most common reactions to be: supportive (34%); anxious (24%); and actively encouraging (14%).
The complexities associated with this process for many of the adoptees in this study were substantial. The issue of divided loyalty being a factor in the original search process often did not subside once contact had been made and a relationship with birth family members established. We will have further discussion in relation to divided loyalties later in the chapter.
Barriers
Respondents identified a number of barriers to their attempts to search for information about both themselves and their family of origin, and to making contact.
Cost
Contact and information vetos
act and information vetos were an issue of contention on a number of levels within this respondent group. These issues mainly emerged during focus group discussions and included:
frustration with birth mothers having contact vetos and therefore adoptees not being able to access medical histories for their mother or father;
the threat of legal/criminal action if they breached the veto;
concern that vetos are not effective given the current levels of accessibility to personal information on the Internet; and
vetos having sometimes been signed by the adoptive parents, not by the adopted individual, or there was no signature required when filling out the veto.
Inaccessibility of information
There were many issues associated with the difficulty of accessing information, such as the navigation of complicated systems and dealing with departmental staff. Study participants reflected that the current system often doesn't provide easy access to information, commenting on the ways in which it fails to take into account the significance of the information that is being provided to those who are seeking it. Respondents noted a lack of sensitivity to the effects that receiving this information may have:
Some phrased this in terms of human rights:
For others, they expressed their frustration with having no information about their fathers, as fathers were often not included on their birth certificates. For some, their mothers either don't know who their father is, or refuse to disclose that information:
One area of particular concern raised by this respondent group, was the discovery that some of the information contained in their documentation is inaccurate. This has had a significant effect on them, as they no longer know what information about themselves and their family members they can trust:
We also received accounts from participants regarding the lack of professionalism of some staff, particularly those whose roles included the provision of information at the Registrars of Births, Deaths and Marriages. These negative experiences ranged from staff lacking sensitivity in the provision of information, to breaches of confidentiality. For example:
forwarding a letter from a birth mother when the adoptee's name was not yet on the contact register;
sending a letter informing adoptees of their adoption without knowing whether they were already aware of it; and
making phone contact at the workplace to advise about the existence of half-siblings.
Enablers to search and contact
When asked what were the most helpful things about the search and contact services they utilised, respondents identified a number of key areas:
Accessibility of information:
Active assistance in search/contact process provided by departments/agencies involved:
Helpful/useful information provided by departments/agencies involved:
Ongoing support from agencies:
As is evident in the information provided by adoptees in the study in relation to their use of search and contact services, there is a marked difference in their experience when compared with mothers in the study. The adoptees group were able to reflect in detail the characteristics of what was most helpful to them, as well as what they would have liked to have experienced differently.
7.11 Making contact
Contact with mothers
the respondent simply had not wanted to establish contact with their mother (16%);
they had some information, but had never met nor had any communication (13%);
they had not been able to find any information or their mother had rejected the possibility of having any contact/relationship with them (12% each);
the respondent had simply not been ready to have contact at this time (8%);
they believed it was their mother's choice to have contact and they were waiting for her to do so (6%); and
their mother had a veto on contact in pace (6%).
Contact with fathers
the respondent had not been able to find any information about their father (42%);
their father had passed away (16%);
the respondent had simply not wanted to establish contact with their father (13%);
they had some information, but had never met nor had any communication (10%).
A small number of respondents who had not had contact with their fathers stated that they were not ready for contact (4%), the father had rejected the possibility of contact/relationship (4%) or they believe it was their father's choice to make contact (3%). Fewer than 1% of respondents said that there was a contact veto in place.
Contact with other family members
the respondent had not been able to find any information (28%); and
the respondent had simply not wanted to establish contact (21%).
Of those who had had contact with other family members, 63% indicated that they had an ongoing relationship, and 30% said that they had met but they did not have an ongoing relationship.
7.12 Effects of contact
Regardless of whether adoptees' contact with their birth families had resulted in positive or negative outcomes for participants in this study, the information shared with us provides a complex picture of how these relationships are developed, maintained and often fragmented from the time of discovery and through subsequent years.
Positive experiences of contact
However, study participants also identified some of the challenges arising from having contact, particularly the complexities of negotiating newly established relationships with members of their family of origin, such as managing expectations as well as being able to convey one's own needs and wants within the context of the new relationship:
Effects on other family members
Divided loyalties
The issue of divided loyalties was a complex topic within both the focus group discussions and the open-response items in the survey. Probably more than any other respondent group in the study, adopted individuals appear to have been the "gatekeepers" of other people's needs/expectations in the adoption circle. The effect of this position/role was clearly stated, and remains one of the most significant issues associated with their adoption experience for many participants in this study. A relatively significant proportion of study participants said that they had in fact waited until the death of their adoptive parents before they contemplated searching for their family of origin, either out of respect to their adoptive parents and/or because they did not want to upset them:
Another participant gave a more detailed account of how this issue has played out in her life. She said:
7.13 Support received as an adult
Informal supports were again the major source of support identified by adoptees in the study, with over one-third of respondents seeking help from friends, and adoptive parents being the main source of support for around 20%. However, there has been quite high use of formalised/professional supports, with about one-quarter of respondents seeking help from a registered psychologist or psychiatrist, almost that many seeking help from an adoption support service, and more than one in five seeing a social worker or counsellor.
The higher use of professional services for counselling/psychotherapeutic support would indicate that the effects of adoption have been significant for the adoptees participating in this study. The information provided in the qualitative components of the study support this notion; in fact, for many adoptees in these discussions, this was one of the most essential areas where they felt the current options for addressing the effects of their adoption experience were inadequate or inaccessible in the long-term due to the high associated costs of such services.
7.14 Current service and support needs
Adopted individuals in this study frequently told us that they feel as though they are the forgotten part of the equation in the broader adoption discussion; yet they are, in reality, living examples of how past practices have played out, and they want to have this information shared with the broader community.
It was clear to us in the collection of their information throughout the course of this study, that:
adopted individuals have some very specific and particular needs;
for many, their adoption experience has often significantly affected their capacity to function fully, both socially and emotionally;
the effects of identity, attachment and abandonment issues have been an incredible burden to both themselves and their other family members, such as spouses and their own children; and
the inaccessibility of their own information as this relates to the formation of their identity and sense of "place" in the world, as well as broader implications on their own and future generations' health, has been largely misunderstood/not acknowledged in the wider focus of the adoption discussion.
Despite the breadth of adoption experiences and associated effects, many adoptees in this study have felt that currently, health and other service professionals lack an understanding and awareness of adoption-related issues and are subsequently ill-equipped to provide effective support interventions.
Adoptees' perspectives of most important benefit
All survey respondents were asked about the single most important thing that would be of benefit to them now in helping them deal with their past adoption experience. This topic was explored further in the focus group discussions.
These discussions identified several areas that study participants commonly said would be of use to them.
Information
A clear need was evident from the discussion for (identifiable) information to be provided on adoptees' mothers and fathers, their medical history, what the process was for screening and selecting prospective adoptive parents, and how true their adoption story is.
One of the most common issues to emerge was knowledge (or lack thereof) about their biological family's medical history and their own medical history at the time of birth. Respondents strongly expressed their rights to their genetic identity - not just for themselves, but also for their children and grandchildren. Many were fed up with always having to explain to medical practitioners about the absence of medical history information.
In addition, some respondents talked about the risk of incestuous relationships occurring if details about one's birth family are not known.
Some respondents expressed frustration with the veto system:
Respondents also wanted easier processes for obtaining documents such as birth certificates and passports, and mentioned the indignity of procedures for obtaining such documents that they have had to, and still have to, follow. The need for a national approach, and government officials who have training in how to deal with adopted individuals, was expressed by a number of focus group participants.
Acknowledgement/recognition
As with many of the mothers, a common theme emerging from surveys and focus groups with adoptees was the importance of society recognising what has gone on, and acknowledgement of its effects on individuals:
Another very common theme was respondents' desire for there to be wider recognition of the situation of persons who have been adopted, with apologies being noted as one avenue for this:
Some adopted persons noted the lack of a language to use to describe adoption to their own children. They felt that this could be made easier through greater public recognition of what has happened.
The issue of compensation came up more frequently among persons who were adopted than other respondent groups:
Public awareness and education
Respondents expressed a strong need to stop the secrecy that still continues in many families today. They commented that increased awareness can enable people to understand that adoption can be a contributing factor to mental health and wellbeing issues: